Wild Horse & Burro Guardians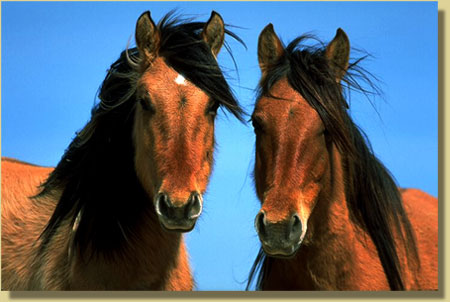 Volunteer general duties will first be to adopt a herd site for any of the 180+ HMAs in 10 western states. Those candidates would make unannounced visits to their selected herd site areas with instructions to report any problems seen, or witness acts that violate the Federal Law protecting these animals to the convening authorities (sheriff dept. or BLM local facility) and send an alert to the WindDancer Foundation, Inc.
On the Bureau of Land Management website, one can browse the information under the term, "What We Do" and choose Wild Horse & Burros. Then select the WH&B Information Center and go over that page on all listed selected topics.
If interested, please e-mail, write or call (970) 416-0033 for more information on joining this unique responsibility for the welfare of the mustangs and burros residing on our public lands.



The American Mustang Guidebook is a combination travel guide, gentling and training guide, resource book, with additions of natural and American history information. Illustrated with the beauty and natural landscapes of wild horses, maps to find where these animals live, sections on the history, behavior and color genetics of the wild horses. You will find detailed state-by-state maps and directions to view these magnificent animals in their native pastures.